XEA147WH
Entry level Cash register - White
Bright, easy-to-read LED display
Built-in SD card slot for easy data transfer and program backup
Electronic Journal for convenient storage of transaction data
Compact, low-profile design
Thermal printer with graphic logo printing
Easy setup and operation
POA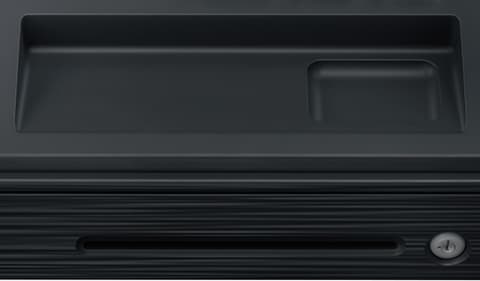 Compact design with built-in convenience
A compact, low-profile design makes this unit a real counter-top space saver. The front-locking cash drawer features three banknote compartments and a removable six-compartment coin tray. A slot accessible from the outside of the drawer provides a quick, safe way to put large banknotes and cheques into an under-tray storage area without having to open the drawer or lift the heavy coin tray. What's more, a multi-purpose tray on the outside—a handy new design feature—provides a convenient resting place for coins, banknotes and pens.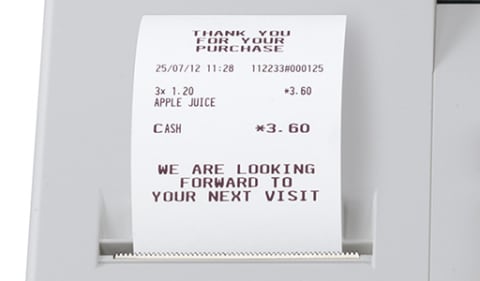 Quick thermal printing with graphic logo printing
The built-in thermal printer prints out sales receipts on 58-mm-wide paper at a speedy rate of approximately 7 lines per second. A graphic logo can be printed out as well, helping to further promote your business. Plus, the drop-in paper loading mechanism allows you to change paper rolls quickly and easily.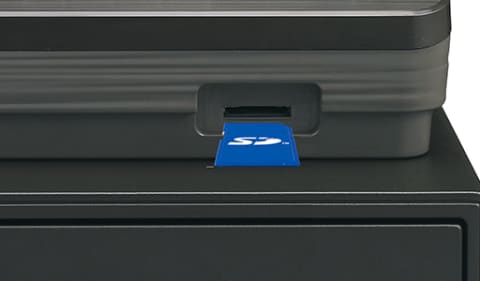 Data backup with SD Card slot
This unit is equipped with a SD card slot. SD card can be used to back up various kinds of data, including daily sales and Electronic Journal data. Data (CSV file type) can be saved to an SD memory card then managed on a computer via Excel or other spreadsheet applications. Also various settings can be configured easily by using an SD card. Parameters such as the store name and logo, department names, product names, sales tax rate and others can all be configured on a computer and imported into the machine quickly and easily with an SD card.
Note: SD cards are not included. Software for importing PC-configured data into this unit can be provided via your Sharp authorized installing dealer.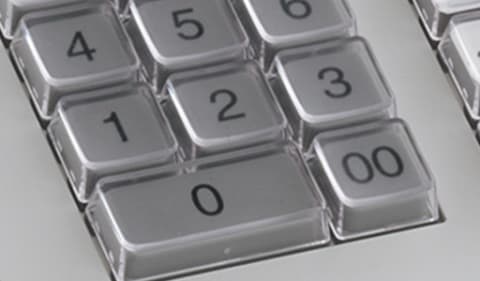 Fast and Accurate Price Entry
Equipped with 200 PLUs (price look-ups), the XE-A147-WH/BK makes entering pricing information easy. Simply entering the codes for the items being purchased lets you total up sales with accuracy and speed. Eight pre-programmed departments are also available for easy tracking and analysing of transactions by product type.
Business Products Warranty Statement
This Sharp product is warranted against faults in material and manufacture for 12 months.
In the event of any defect arising in the equipment during the warranty period, such repairs should only be carried out by the Dealer from which the unit was originally purchased or a Service Centre approved by Sharp to service this type of equipment These repairs would be carried out at no charge to the owner, subject to the conditions specified herein.
This warranty does not extend to defects or injuries caused by or resulting from causes not attributable to faulty parts or the manufacture of the product, including but not limited to, defect or injury caused by or resulting from misuse, abuse, neglect, lack of maintenance, accidental damage, improper voltage, liquid spillage, vermin infestation, software, or any alterations made to the product which are not authorised by Sharp.
Please retain your sales documentation, as this should be produced to validate a warranty claim. This warranty is in addition to and in no way limits, varies or excludes any implied rights and remedies under any relevant legislation in the country of sale.
Goods presented for repair may be replaced by refurbished goods of the same type rather than being repaired. Refurbished parts may be used to repair the goods. The repair of your goods may result in the loss of user generated data, please ensure that you have saved this data elsewhere prior to repair.
Australian Customers
Our goods come with guarantees that cannot be excluded under the Australian Consumer Law. You are entitled to a replacement or refund for a major failure and for compensation for any other reasonably foreseeable loss or damage. You are also entitled to have the goods repaired or replaced if the goods fail to be of acceptable quality and the failure does not amount to a major failure. The criteria of a major failure is defined in the Australian Consumer Law. Should you require any assistance with a major failure please contact Sharp Customer Care.